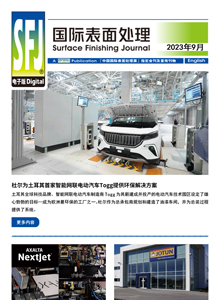 CURRENT ISSUE
September 2023
PUBLICATION DATE
September 15, 2023
Content
Environmentally-Friendly Complete Solution for Togg – Turkey´s First Smart and Connected EV Manufacturer
Production is underway at Togg´s new Technology Campus. Turkey´s global technology brand and first smart and connected EV manufacturer has an ambitious target for its Togg Technology Campus for electric vehicles: to be one of the most environmentally-friendly plants in Europe. Dürr planned and built the paint shop as a general contractor and supplied systems for the final assembly process.
Axalta Partners with Xaar to Introduce Next Generation,
Axalta has entered into a partnership with Xaar, a leading manufacturer of drop-on-demand inkjet technologies, to introduce Axalta NextJet™, a next generation, sustainable digital paint technology for the transportation industry.
Jotun´s Fire Protection Coating R&D Facilities Expands
Jotun has announced the completion of major expansion of its Global Intumescent R&D Laboratory to advance new product innovation and technologies.
PPG Launches Low-temperature Cure Electrocoats for Automotive Manufacturers
PPG has launched PPG ENVIRO-PRIME® EPIC 200R coatings, a suite of electrocoat (e-coat) products that cure at lower temperatures than competing technologies.
New Coatings Caution
— Darrell Reeve, Managing Director, Cleaner Production Australia, an independent environmental consultancy; Tertiary qualifications in Applied Chemistry, Production Management, Metal Finishing & Chemical Engineering; Member, Institute of Materials Finishing
Many desirable properties and extension of existing property values have been and are being discovered in our industry segment that mainly involve the incorporation of small percentages of new sophisticated materials (usually very fine particles) into an existing coatings system.