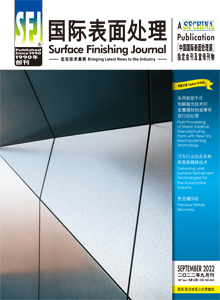 CURRENT ISSUE
September 2022
PUBLICATION DATE
September 15, 2022
Content
Editor's Note
Good News at Last
— Darrell J Reeve
In the last few days, I have seen some positive and promising newsprint and media releases regarding Covid. I just hope, like we all do, that it is true. It appears that hospital numbers are dropping generally plus new and better treatments are being released. Some business forecasts in our region are also saying some encouraging things about future product sales. The growth projections are not particularly high but positive, especially for the longer term.
Eletropolishing
Post-Processing of Metal Additive Manufacturing Parts with New Dry Electropolishing Technology
— Pau Sarsanedas, President & CEO, GPAINNOVA, Spain
Grinding and polishing are surface finishing processes conceived to remove the asperities and defects inherent in the surface after the manufacturing process of every metal workpiece. By effectively removing these roughness, burs and micro-defects, the component is dramatically improved in terms of corrosion/oxidation resistance, lifespan, metal coupling, friction reduction, etc..
Deburring
Deburring and Surface Refinement Technologies for the Automotive Industry
— Rösler Oberächentechnik GmbH, Germany
Alternative drive systems or conventional combustion engines, light-weight designs or the use of 3D printing for the volume production of vehicle - all the components going into the manufacture of automobiles have one thing in common: They must have a surface finish that fully meets the technical specifications.
Environmental Challenges
Precious Metals Recovery
— Darrell Reeve, Managing Director, Cleaner Production Australia, an independent environmental consultancy; Tertiary qualifications in Applied Chemistry, Production Management, Metal Finishing & Chemical Engineering; Member, Institute of Materials Finishing
With the astronomical growth in the electronics industry, precious metals are finding increasing applications particularly related to conductivity and similar properties. While it is exciting to realize the tremendous benefits of very small quantities of these precious metals, we also need to think about the 'end of life' of the products that they find themselves in and be able to recovery and re-use them economically and sustainably.
Regular Columns
Product Showcase
DXQplant.analytics software improves first-run rate through systematic fault analysis, quality management & greater overall equipment effectiveness
AkzoNobel launches industry-first tool to drive bodyshop sustainability
Industry News
PPG selected as the Official Paint of Walt Disney World and Disneyland
Chromium market size is forecast to reach US$ 15.7 billion by 2027
Home appliances market is expected to register a CAGR of more than 4% during the forecast period, 2021-2026
Trade Shows & Forums
Advertisers' Index