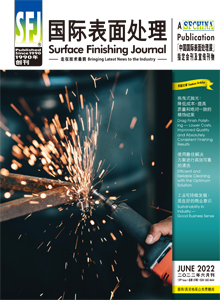 CURRENT ISSUE
June 2022
PUBLICATION DATE
June 15, 2022
Content
Editor's Note
Staying Positive
— Darrell J Reeve
Surface finishing is a vital and essential industry with a host of positive offerings to all people across the globe. We should never shy away from promoting the good things about our industry. You only need to visualize a typical 24 hour, moment by moment, activity schedule of any person in society to see how much we all depend on the wonderful things we use and how surface finishing makes them usable and safe.
Polishing
Drag Finish Polishing — Lower Costs, Improved Quality and Absolutely Consistent Finishing Results
— Rösler Oberflächentechnik GmbH, Germany
To ensure the optimal function of artificial hips in a patient's body, certain surface areas on the hip stem must have different finishes. For example, the neck area of the stems requires a very smooth, polished surface.
Industrial Parts Cleaning
Efficient and Reliable Cleaning with the Optimum Solution
— Ecoclean GmbH, Germany
Today, parts cleaning has become a quality critical manufacturing step in all industry sectors. Often it takes great effort to reproducibly meet particulate and film-type cleanliness specifications. At the same time cleaning is to be done at the lowest possible cost. These contradictory requirements imperatively call for processes and machines tailored to specific needs.
Environmental Challenges
Sustainability in Industry — Good Business Sense
— Darrell Reeve, Managing Director, Cleaner Production Australia, an independent environmental consultancy; Tertiary qualifications in Applied Chemistry, Production Management, Metal Finishing & Chemical Engineering; Member, Institute of Materials Finishing
Sustainability, by definition, means longevity at competitive prices among other things − that manufacturing can continue indefinitely without any threat from financial or environmental concerns − like a 'perpetual utopia' status.
Regular Columns
Product Showcase
— Henkel launches Loctite EA 9400 and Loctite FPC 5060 protective coating solutions for EV battery safety
— EcoBell4, the newest atomizer generation from Dürr reduces paint and solvent consumption and VOC emissions
— Smart complete solution E-Line from Wagner
— SAMES KREMLIN's 2K solution by gear pump supplies freshly mixed 2 component sealant to one operator
— Graco launches the New IniFlex colour change platform
— Restore rusty equipment with Cortec® biobased rust removers
Industry News
Trade Shows & Forums
Advertisers' Index