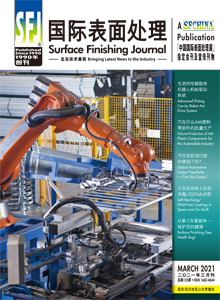 CURRENT ISSUE
March 2021
PUBLICATION DATE
March 15, 2021
Content
Editor's Note
Post Pandemic Pickings
— Darrell J Reeve
Most of us are still 'stinging' from the effects of Covid 19 even though many of our readers will have put in place careful strategies to counteract the very negative and disastrous results of last year. Some have taken very bold entrepreneurial steps and captured good returns from new, niche markets that have arisen from the pandemic, including changing their product lines significantly to be able to supply associated high demands for related, specific items.
Robotic Equipment
Advanced Plating Carrier Robot Ant Drive System
— Join Experts Machinery (ShenZhen) Co. Ltd.
An edge of Plating Carrier system is currently on public release, built up peripherally technologies — high speed plating configuration, chemical control, and eco-recycle of resources.
Additive Manufacturing
Volume Production of AM Plastic Components for the Automobile Industry
— Daniel Hund, Rösler Oberächentechnik GmbH, Germany
As one of the first customers, OECHSLER, globally probably the largest volume manufacturers of 3D printed plastic components, has purchased the post processing system S1 from AM Solutions – 3D post processing technology. The automated S1 will assist the company to fulfill the stringent requirements for quality, repeatability of processing results, traceability and cost efficiency that must be met in the automotive industry.
Market Insight
The Shows Closed with Reasonable Results in a Year Full of Uncertainties
SFCHINA2020, the 33rd edition of its series, concluded on a reasonable note on December 10 at Area A of the China Import and Export Fair Complex (CIEFC) in Guangzhou, P.R. China. During such unprecedented time, as well as facing lots of uncertainties and challenging environment this year, SFCHINA still managed to organize an exhibition for the industry.
Industry Pulse
Global Automotive Colour Popularity — Can You Guess?
— Sally Yick, Managing Editor, Surface Finishing Journal
Car enthusiasm became more popular with each passing year. Car models are always people's top priority when buying a car, whilst people are less concerned with the exterior colour. What is the most popular car colour? Let's take a look at the research of automotive paint suppliers Axalta and PPG!
Coating Products
Self-Sterilising/DNA-Free Coatings in Space and On Earth
— Steve McDaniel and Jonathan D. Hurt, Reactive Surfaces Ltd., USA
What if, because of paint, man could finally answer the age-old question: Are We Alone? It is often said amongst materials scientists that the very last thing considered by equipment design engineers is the materials from which the equipment will be constructed.
Environmental Challenges
Surface Finishing Gets Health Bug!
— Darrell Reeve, Managing Director, Cleaner Production Australia, an independent environmental consultancy;Tertiary qualifications in Applied Chemistry, Production Management, Metal Finishing & Chemical Engineering; Member, Institute of Materials Finishing
In recent years, the environmental pressure on the surface finishing industry has emphasized toxic metals and chemicals that should be banned or replaced by environmentally friendly alternatives. The industry has worked very hard to achieve this and should be congratulated in predominantly removing heavy metals from commercial use.
Regular Columns
Product Showcase
TAUBMANS paint by PPG releases game-changing COLOURSMITH colour-creation technology
Wagner high-speed rotation atomizers
Ransburg RansFlex RXi electrostatic spray gun sprays water based paints without isolation equipment
Trade Shows & Forums