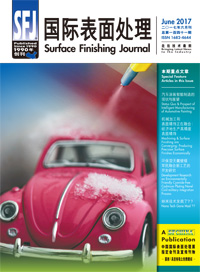 CURRENT ISSUE
June 2017
PUBLICATION DATE
June 15, 2017
Content
Editor's Note
Environment — Stay with the Flow!
— Darrell J Reeve
Many of us were dismayed at the recent USA announcement to step away from the Paris accord on the environment. Our strong advice to all our readers is to 'stay with the flow' or mainstream of most of the signed up countries including China. It is hoped that the USA will re-consider or adopt alternative procedures to reduce CO2 emissions and improve manufacturing efficiencies with lower pollution.
Coating Applications & Products
Automotive Painting Line
Status Quo & Prospect of Intelligent Manufacturing of Automotive Painting
— Junqiang He, Chery Automobile Co., Ltd.
With the increasing automation rate of industrial car body painting - the leader in the surface treatment industry and the rapid development of data detection technology and industrial networking, the research of intelligent manufacturing of automotive painting has become a popular topic. This paper discusses the development direction of intelligent manufacturing automotive painting based on its basis and demand.
Feature
SFCHINA – Expanding into New Areas of Environmental, Safety & Protection
SFCHINA recognizes the growing importance of Environmental and Safety in our industry. It wishes to enhance continual improvements and encourage both Suppliers and Applicators to be involved in better care for the environment and also human safety and health. To demonstrate this effort, SFCHINA2017 Shanghai, 15-17 November, will introduce a new, special, exhibition area for companies wishing to exhibit in the Environmental, Safety and Protection.
Electroplating & Product Finishing
Deburring
Machining & Surface Finishing are Converging Producing Precision Surface Finishes Economically
— Doris Schulz, Germany
Today, the production of precision parts is characterised by highly demanding specifications with regard to tolerances and surface quality. Innovative, advanced processes for deburring, surface finishing and shaping are making it possible to improve quality and productivity, as well as economic efficiency.
Cyanide-free Cadmium Plating
Development Research on Environmentally Friendly Cyanide-free Cadmium Plating Novel Civil-military Integration Process
— Jeffrey Lai & Chong-wu Guo , Guangzhou Ultra Union Chemicals Ltd., P.R. China
Novel cyanide-free cadmium plating process was developed. Cadmium chloride is 25~35 g/L, coordination agent 100~140 g/L, potassium chloride 140~180 g/L, brightener 1.5~2.5 mL/L, adjuvant agent 25~35 mL/L, pH 6.0~7.0. Temperature is 15~35 ℃,and J k = 0.5~1.5 A/dm² in the rack plating bath. Temperature is 15~30 ℃,and bath voltage 4~7 V in the barrel plating bath, and the barrel revolving speed is 3~5 r/min.
Environmental Challenges
Nano Tech Gone Mad ??
— Mr. Darrell J. Reeve, UNEP / UNIDO Consultant in Metal Finishing
Only a few years ago, engineered nanoparticles (ENPs) were unheard of. Now they are everywhere in many aspects of life and industrial manufacturing technologies, including Surface Finishing. It is estimated that nano technology in industry was worth over 1 trillion dollars in 2015 and continues to grow rapidly. It has been said that' nano technology is one of mankind's biggest hopes for technological progress in the 21st century. It promises to revolutionize manufacturing, materials science, computers, medical devices and much more.' Nano materials are not just small crystals but intermediate between bulk and molecular materials that exhibit unique magnetic, electrical, optical, mechanical, structural and chemical properties.
Regular Columns
Industry News
PPG marks completion of $19 million waterborne automotive coatings production line in Wuhu, China
Kremlin Rexson, Sames Merge Into Sames Kremlin
Axalta opens new India headquarters to support future growth
Coventya China ground breaking ceremony
New AkzoNobel site strengthens leading powder coatings position in China
Trade Shows & Forums
Advertisers' Index